Last price update was: november 3, 2017 1:17 am
×
Product prices and availability are accurate as of the date/time indicated and are subject to change. Any price and availability information displayed on Amazon at the time of purchase will apply to the purchase of this product.
Flight time: 16 mins / Transmission Distance: 2 km
Speed: 50 km/h / VPS range: 30M
Gimbal: 2-Axis / Effective Pixels: 12MP
Last updated on november 3, 2017 1:17 am

Beskrivelse
SPARK – seize the moment
Meet Spark, a mini drone that features all of DJI's signature technologies, allowing you to seize the moment whenever you feel inspired. With intelligent flight control options, a mechanical gimbal, and a camera with incredible image quality, Spark empowers you to push your creative boundaries.
Quick launch
With FaceAware, Spark lifts off from your hand by recognizing your face. It takes off and hovers in place within seconds of powering on.
Simple control
Take amazing aerial photos using just hand gestures, without a remote controller or mobile device.
Create with ease
Intelligent Flight Modes and intuitive controls help you create cinematic aerial videos with just a few taps.
Edit and share
The DJI GO 4 app features automatic editing templates and an array of filters. Quickly edit videos and share them straight to social media.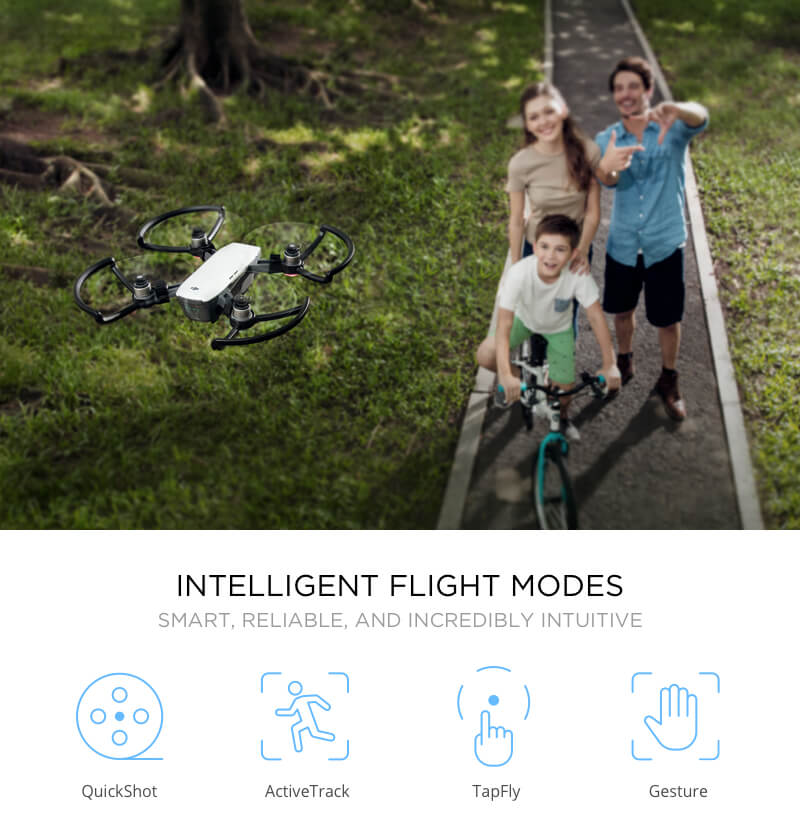 Features
Propeller guards are recommended when using these functions.
Remote controller (optional accessory) required.
Unobstructed, free of interference, with remote controller when FCC compliant.
Estimated flight time is based on flying in windless conditions at a constant speed of 12.4 mph (20 kph).
Actual flight times may vary depending on your environment.
Remote controller required; DJI Goggles compatibility coming soon.

Hej kære læser på MyglamClub – #MGC. De indlæg, som du finder under "Redaktionen" er skrevet, og sat op af, Trine eller Mette – som ejer og driver MGC. Hvis du har spørgsmål, så skriv enten til: Mette@memamedia.dk eller Trine@memamedia.dk. Husk at mærke din mail med "MGC". Vi glæder os til at høre fra dig om et muligt samarbejde, eller blot hvis du skulle have nogle spørgsmål. Du er altid velkommen til at kommentere under vores indlæg herinde på MGC – MyglamClub!
Yderligere information
Camera Resolution

Image Size: 3968x29761440x1080 with ShallowFocus2300x1280 with Pano (horizontal)960×1280 with Pano (vertical) Video Resolution: FHD: 1920×1080 30p

Flight Time

Max Flight Time: 16 minutes (no wind at a consistent 12.4 mph (20 kph))
Max Hovering Time: 15 minutes (no wind)

GPS

GPS/GLONASS

brand

DJI

Maximum Altitude

13,123 feet (4,000m)

Camera Lens

FOV 81.9 degrees 25mm (35mm format equivalent) f/2.6 (shooting range: 2m to infinity)

Camera Sensor

1/2.3" CMOS

Camera Effective Pixels (MP)

12

Hardware Stabilization

Stabilization: 2-axis mechanical (pitch, roll)

Weight

0.66 lb.

Battery Type

LiPo 3S

Wireless Frequency

2.4 GHz, 5.8 GHz

Dimensions

2.17" x 5.63" x 5.63"

Wireless Range

100m (Distance), 50m (Height) (Unobstructed, free of interference)

maximum-flight-time

15

remote-control-range

1000

speed-supported

48